---
Where your money goes…
---
Raised over £367,000
since fundraising began in April 2010
Where the money goes…
Campaigns and initiatives
---
MvC Cheltenham raise £4,585 for Sue Ryder Hospice.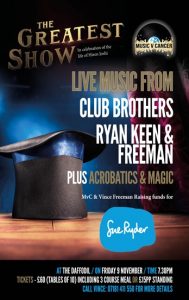 ---
New Gynae Project gets the green light with a £1 for £1 matching initiative with MUSICvCANCER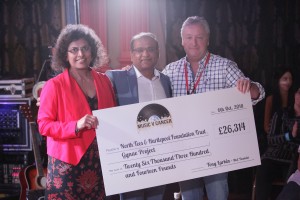 This much needed facility will be based in Hartlepool Hospital and will help detect women's cancer at a much earlier rate. Dr Mary George accepted the cheque from Tony Larkin and Dr Anil Agarwal at the last MvC Live Sessions based at The Grand Hotel, Hartlepool. 6th October 2018.
---
MvC fund much needed Gastro Dummy for Hartlepool Hospital Endoscopy Academy which was also funded by MvC back in August 2015.
£4,000 Investment.
---
MvC make £108,000 donation to complete a full refurb of the Chemotherapy Ward in North Tees Hospital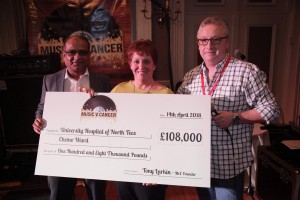 News to follow soon. April 2018.
---
New Family Room for the Chemotherapy Ward, University Hospital of Hartlepool in memory of Andy Brown (MvC coast2coast Fundraiser) – £8,000+ Investment. April 2017.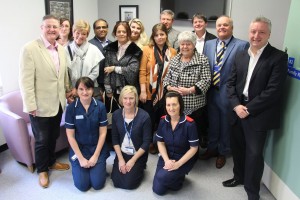 ---
The Cancer Information Centre, at the University Hospital of Hartlepool, is back up and running following a £1,000 donation from Music v Cancer and its associated charity, Support Your Bowel – July 2016.

---
MUSICvCANCER and it's associated charity SUPPORT YOUR BOWEL
were present at the opening of the new Macmillan Cancer Information Centre in North Tees Hospital today which the two charities donated a combined £5,000 towards the new facility in June 2016.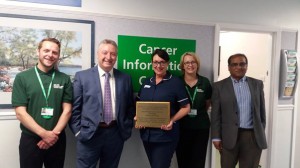 ---
MvC purchase equipment for new Endoscopy Academy based at the University of Hartlepool Hospital – £15,000 investment.
April 2015 – Unit officially opened in August 2015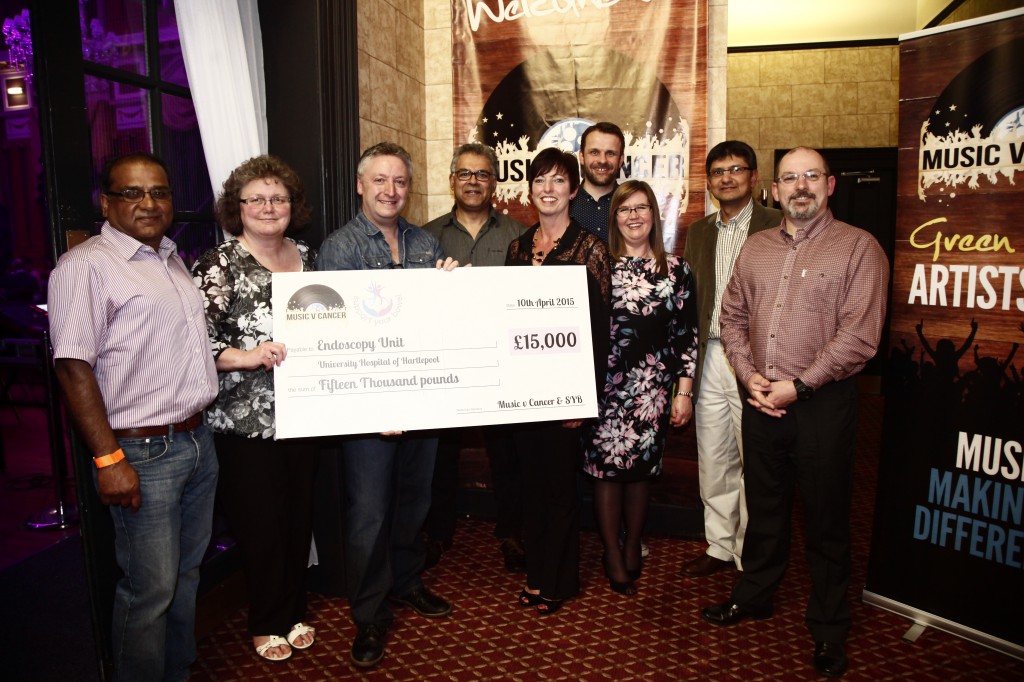 ---
MvC Cervical Cancer Campaign in Memory of Ann-Marie Noble
January 2015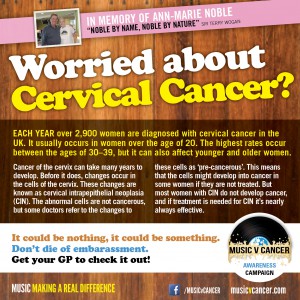 20,000 post cards / 500 Posters / Two Awareness Days
---
MvC Purchase two video cystoscopies
Music v Cancer have purchased two video cystoscopies for North Tees Hospital costing £37,000. The machines can not only detect and give specialists a clear view of the early stages of cancer but can also trea
t patients and carry out small procedures.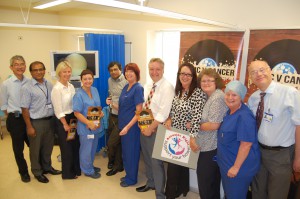 ---
MvC Postcard Campaign – April 2014 (Bowel Cancer Awareness Month).  
10,000 awareness postcards distributed via the Hartlepool Mail.

---
MvC Auction Red Hot Chili Peppers Guitar on behalf of
The Bradley Lowery Fight Fund
MUSICvCANCER auctioned a Red Hot Chili Peppers guitar on behalf of the Bradley Lowery Fight Fund on Friday night (4th April) at the latest of the MvC Live Sessions held in Hartlepool. The auctioned guitar raised a fantastic £650.00 for Bradley which was handed directly to his fund!  Big Love to Bradley from all at MvC X

---
MvC £1,000 Donation to Bradley Lowery Fight Fund
Presentation was made by Tony Larkin (MvC Founder) to Mark Rycroft (Bradley Lowery Fight Fund Manager) in the Hartlepool Shopping Centre.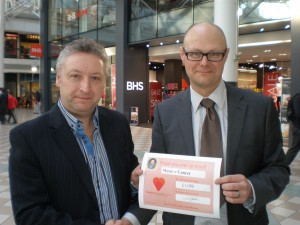 ---
Cancer patient's dream come true
MvC organised a weekend in London for terminally ill cancer patient Ann-Marie Noble which included meeting Sir Terry Wogan at the BBC's  Radio 2 studios. This was one of Ann-Marie's wishes on her bucket list . Hays Travel were also part of making this dream come true. Thanks to Sir Terry Wogan and his team at BBC Radio 2 for giving up their time to meet Ann-Marie.
Pictured below: Sir Terry Wogan and Ann-Marie Noble – Aug 2013

---
New MvC street team t-shirts launched in time for Stockton Weekender – 2013
Volunteers Samantha Musgrave and Karen Watermen gave up their time to help raise awareness along with core members of the MvC team at the Stockton Weekender festival in July. It was a very successful day, spreading the MvC love. Thanks girls
Pictured: Samantha Musgrave and Karen Waterman

---
MvC Postcard Campaign – July 2013.  
10,000 awareness postcards were printed for use at the Stockton Weekender in July 2013.

---
* Bowel Cancer Awareness Campaign – Hartlepool Mail April 2013.
Below: Examples of adverts which ran in the Hartlepool Mail newspaper. Hartlepool has the highest death rates of Bowel Cancer in the UK (Stats 2011).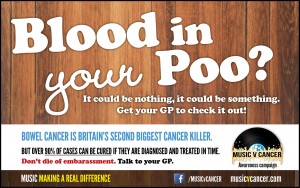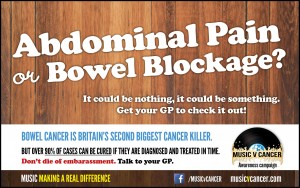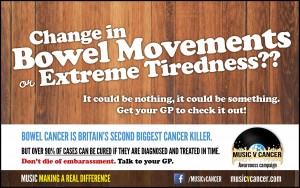 ---
Bowel Cancer Awareness Campaign – Radio Hartlepool April 2013.
A series of  bowel cancer awareness adverts ran on air for a month.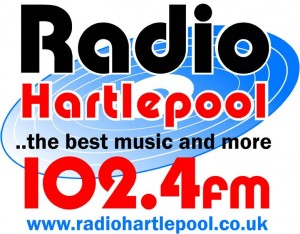 ---
Lung Cancer Awareness Campaign – 500 Posters Nov 2012
Lung Cancer Awareness Campaign – 3,000 Leaflets Nov 2012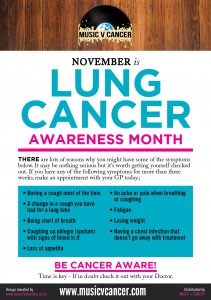 ---
BBC Tees Radio – Awareness Interview with John Foster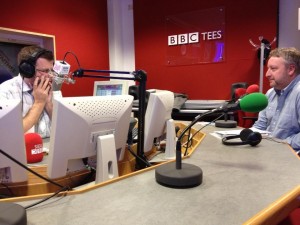 ---
Joint initiative with Support Your Bowel – Radio Hartlepool Commercial Campaign raising vital Bowel Cancer Awareness – Oct/Nov 2011 and re-run from Jan-Mar 2012.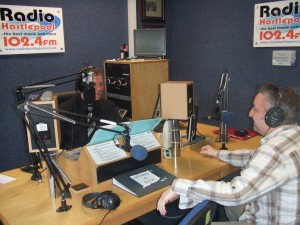 ---
Joint initiative with Support Your Bowel (SYB) raising £63,000+ for a new Endorectal Ultrasound Machine for North Tees and Hartlepool Trust.
The machine installed Feb 2012.

---
MvC Leaflet Campaign –  5,000 Raising Awareness. Feb 2012.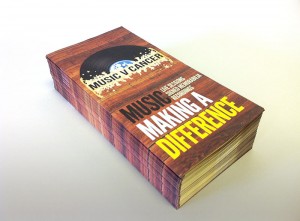 ---
* SYB Leaflet Campaign – 10,000 Raising Awareness. Feb 2012.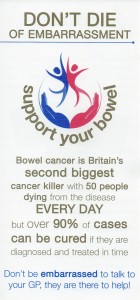 ---
* SYB Leaflet Campaign – 2,000 Raising Awareness Mar 2011.
Do Your Bit…
MVC have taken part in hosting a range of different music events and initiatives to raise funds, none of which would be possible without the people like YOU willing to help. Why not get in touch and become an active participant?
Make a Difference…
Planning on taking part in a fundraising event but unsure as to which cause to support then why not consider "MUSICvCANCER".
Please don't hesitate to get in touch with your fundraising events and ideas.
You can make a real difference!
Registered Charity No. 1057682
Part of the North Tees & Hartlepool NHS Trust Foundation